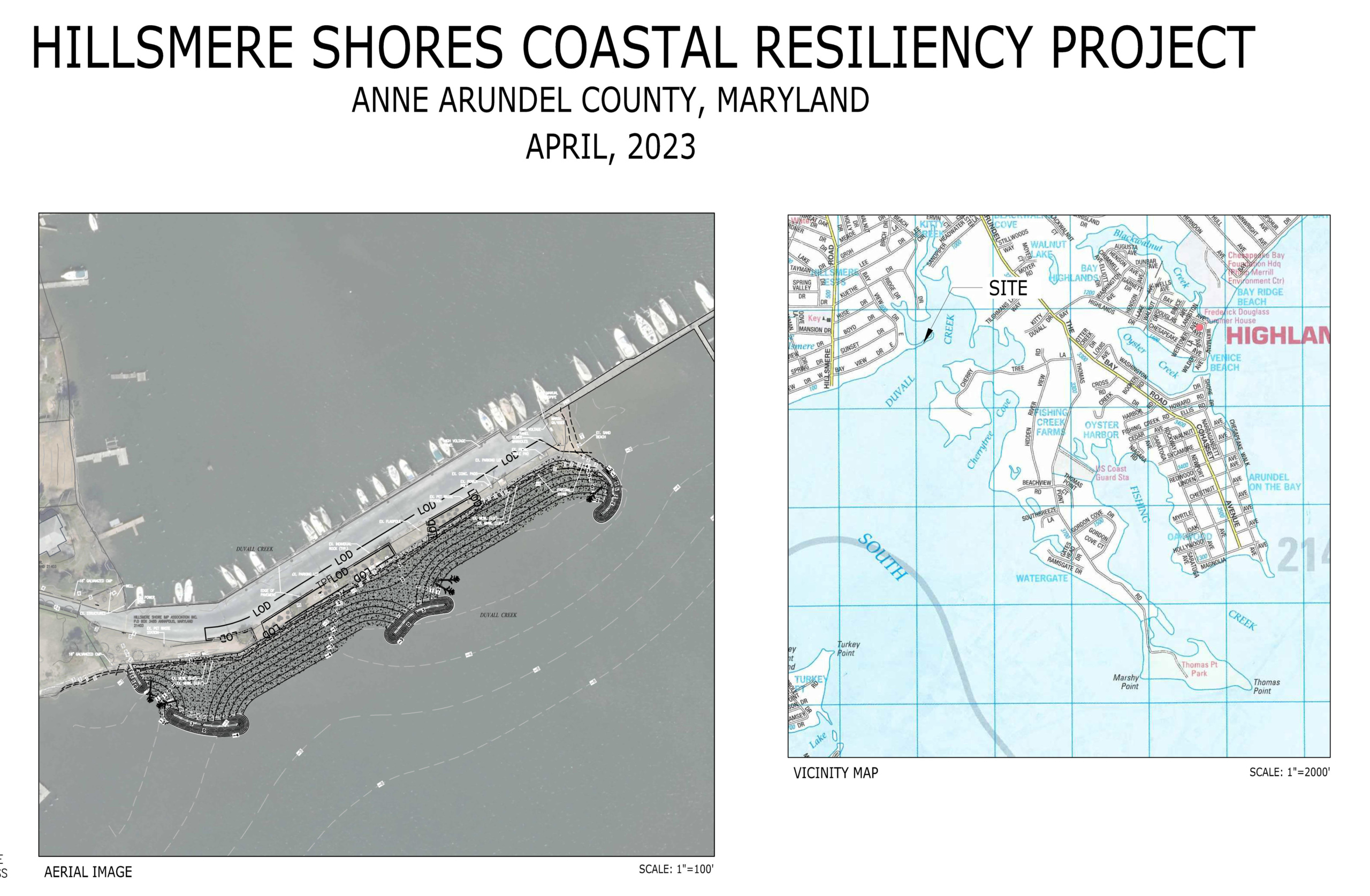 05/01/2023 – Our design contractor Environmental Systems Analysis ("ESA") has completed a draft of permit-ready plans for development of the Sand Spit Living Shoreline Project, based on Concept Plan Version 2.0 employing a "headlands" design, and now entitled "Hillsmere Shores Coastal Resiliency Project" (the "Project"). On April 27th the HSIA Board approved authorizing Arundel Rivers Federation ("Federation") and ESA to move forward with joint federal/state permit applications for the Project, subject to community ratification at the May 11th, 2023, General Membership meeting.
Acting on behalf of HSIA, the Federation and ESA will prepare to file a Joint Permit Application to the Maryland Department of Environment ("MDE") and the Army Corps of Engineers ("ACE") for Wetlands Permits allowing construction of the Project, as detailed in the draft design plans completed by ESA dated April 2023.
Under the HSIA Bylaws, Article III, Section 12- Limits of Authority, Subsection A- Real Property, before purchasing, selling, or encumbering HSIA real property, the Board is required to submit the same to the general membership for ratification. While filing a joint federal/State permit application is not technically "encumbering" the Sand Spit property, it does represent a strong commitment to the Project, and signals to government agencies and private donors that if permits are approved, HSIA is willing to proceed with Project construction. In other words, that HSIA is "serious" about the Project.
At this point, approximately $20,000 has been expended on design costs, and permitting costs will be in the range of $15,000. These costs are well within the State Capital Grant funds of $109,000 the Federation received last year for the Project. Preliminary construction costs of the Project are estimated to be $600,000 to $800,000.
Therefore, the Board's decision to proceed with permit applications for the Project will be presented to the HSIA general membership for ratification at the next general Membership Meeting to be held on May 11th, 2023. Copies of the draft permit-ready design plans and Project renderings will be available for review at the meeting and may be viewed online and/or printed using the following link Hillsmere Shores Coastal Resiliency Project Plans. 
UPDATE – Sand Spit Living Shoreline Concept Plan Version 2.0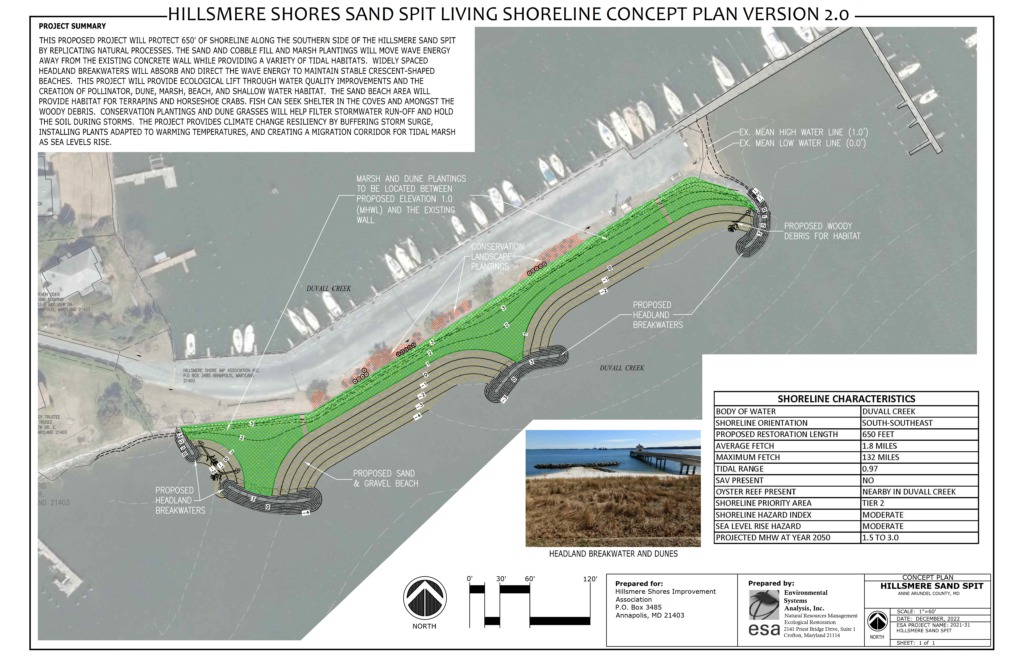 BACKGROUND
As you may know, the Sand Spit Living Shoreline Project was not selected for design funding last year (2022) in the highly competitive DNR Watershed Assistance Grant Program, or under the equally competitive Anne Arundel County Watershed Restoration Grant Program. We decided, therefore, to apply in 2023 for construction funds from DNR's Coastal Resiliency Grant Program. 
HSIA's Project Partner Arundel Rivers Federation ("Federation"), HSIA representatives Kevin Green and Steve Vanderbosch, and the selected design firm Environmental Systems Analysis, Inc. ("ESA") have held meetings with DNR officials to get constructive feedback on the design of the Project to make it more competitive for limited grant funds. An application for construction funds under the Coastal Resiliency Grant Program was due and was submitted to DNR on December 15, 2022.
FUNDING
We were successful in 2022, through the efforts of the Maryland General Assembly District 33A Delegation, in obtaining a State grant "…for the acquisition, planning, design, construction, repair, renovation, reconstruction, site improvement, and capital equipping of a marsh and oyster habitat…" at Hillsmere Shores in the amount of $109,000. The Federation has completed the required Grant Agreement with the State, under which HSIA is the Beneficiary, in order to access the $109,000 included in the State's Capital Budget. The last step in the grant process before funds become available is approval by the State Board of Public Works, expected in January 2023.
In addition, the HSIA Board of Directors, which had previously approved encumbering up to $30,000 in matching funds for design and construction of the Project, approved making $20,000 of those matching funds available to the Federation. With these two sources of funding available, acting on behalf of HSIA, the Federation executed a design contract with ESA, and design work has begun.
DESIGN
As a result of consultations with DNR, ESA has incorporated elements into the Project design to create a "dynamic" living shoreline that will hopefully be more competitive under DNR's Coastal Resiliency Grant Program.
The original concept plan for the Project, drafted in July 2021, utilized a more traditional offshore breakwater/sill design which emphasized marsh creation and conservation plantings. It featured stone sills and oyster balls approximately 40 feet offshore from the existing rip rap, in-filled with sand and planted with marsh vegetation. In some respects, it could be viewed as just building another segmented rip rap barrier 40 feet offshore. It was not designed to have a beach geometry that could fluctuate with seasonal winds and waves. And, as we know, it was not selected for grant funding.
Methods of shoreline protection historically have included bulkheads, seawalls, revetments (rip rap) and groins. Hillsmere Shores has employed bulkheads and seawalls at the Sand Spit and Community Beach, and revetments (rip rap) at the Sand Spit. More recent methods of shoreline conservation have utilized breakwaters and sills, as can be seen offshore of Bay Ridge, at Mayo Beach Park, and as recently constructed across Duvall Creek at Fishing Creek Farms. A relatively new method of shoreline protection in the Chesapeake Bay is Headland Control, a well-established method in other parts of the world. Headland Control can be used to create dynamic shorelines and is considered a cost-effective option to manage shoreline erosion. This method allows long stretches of shoreline to be addressed with a few strategically placed structures. Headland Control reduces the linear feet of structure needed and is accomplished by accentuating existing features or creating permanent headlands that allow adjacent, relatively wide, embayments to achieve stable configurations.
ESA subcontracted with Sustainable Science LLC, a coastal engineering firm which has designed several dynamic living shorelines. Sustainable Science has completed a hydrographic survey of the immediate offshore area of the Sand Spit, and has analyzed wind and wave parameters, leading to proposed headland structure locations and geometries, along with a beach nourishment footprint. See the attached revised concept plan: SAND SPIT LIVING SHORELINE CONCEPT PLAN VERSION 2.0.
Elements of this dynamic living shoreline include a dynamically stable beach with habitat for terrapin, tidal marsh, vegetated dunes and conservation plantings. The dynamic living shoreline utilizes a different design strategy, employing "Headlands" rather than breakwaters/sills or other structures. The results should be the same, but it will look a little different — more like a natural beach with irregular openings and curved structures rather than a straight, repetitive series of offshore sills.
The Project will still provide ecological benefits through water quality improvements and creation of pollinator, marsh, and shallow water habitat, and it will still provide climate change resiliency by buffering against storm surge.
Living Shoreline at the Sand Spit—Concept Plan Design Completed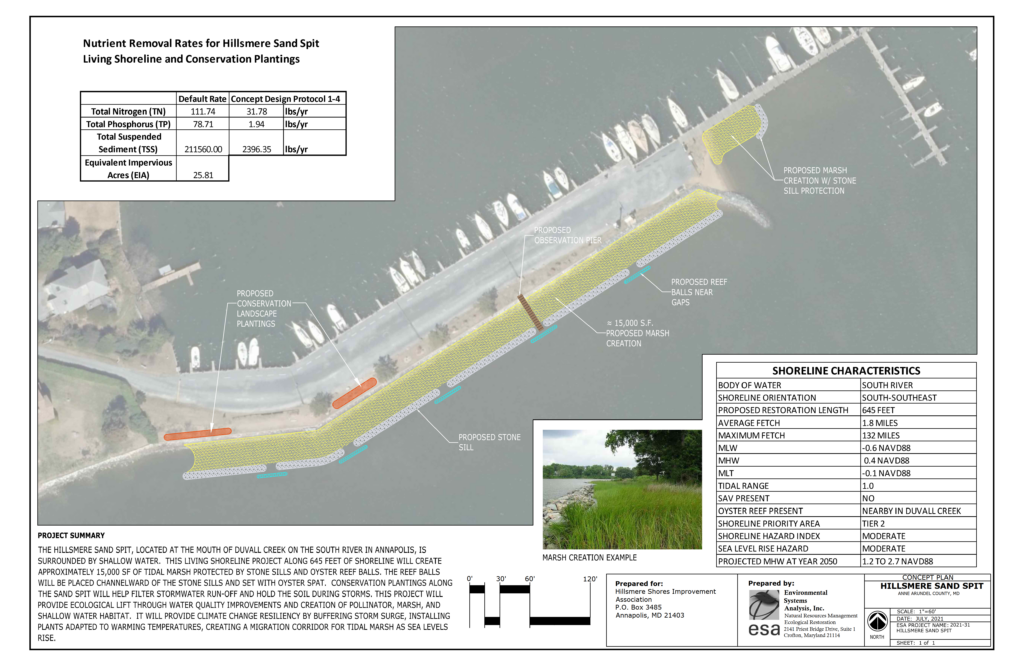 8/30/2021 – Last month we reported that the HSIA Board of Directors approved a contract with Environmental Systems Analysis, Inc. ("ESA") for a Concept Plan design of a living shoreline at the Sand Spit. This Concept Plan is now completed and has been published in the September 2021 Sea Breeze and here for your review.
The one-page project summary includes a description of shoreline characteristics, a plan view overlayed on an aerial photo, showing proposed stone sills, oyster reef balls, approximately 15,000 square feet of marsh creation, conservation plantings, an observation pier, nutrient reduction calculations, an example photo and a project summary. Please take a few minutes to review this Concept Plan that is packed with information and visuals.
This is a 20% design of a living shoreline plan to be used for informational and educational purposes, and, assuming approval by the HSIA Board, to assist in seeking grant funds for a full design of the living shoreline project. As presently depicted, this plan proposes placing segmented stone sills along 645 feet of the Sand Spit rip rap bulkhead, approximately 40 feet offshore, to create approximately 15,000 square feet of marsh, which will provide new marine habitat and wave attenuation at the Sand Spit. It also proposes placing submerged oyster reef balls near the gaps in the stone sills, a 40 foot observation/educational pier, and conservation plantings along the Sand Spit. At the end of the Sand Spit near the "Dog Beach" and the site of two recent successful Terrapin nestings, a former marsh/beach area shown to exist on 1984 plats would be partially restored.
HSIA hopes to schedule Community Meetings, open to all (pandemic-permitting) to discuss this Concept Plan, answer residents' questions, and get Community input and feedback. In the meantime, we invite residents of Hillsmere Shores to submit questions about the Living Shoreline Concept Plan using the form in the sidebar. Questions will be answered by representatives of the Piers & Harbors and Environmental/Shoreline Conservation committees, and both questions & answers will be posted below. Please compose questions thoughtfully and respectfully, keeping to the topic of the Living Shoreline Concept Plan.
STAND BY FOR FUTURE DEVELOPMENTS!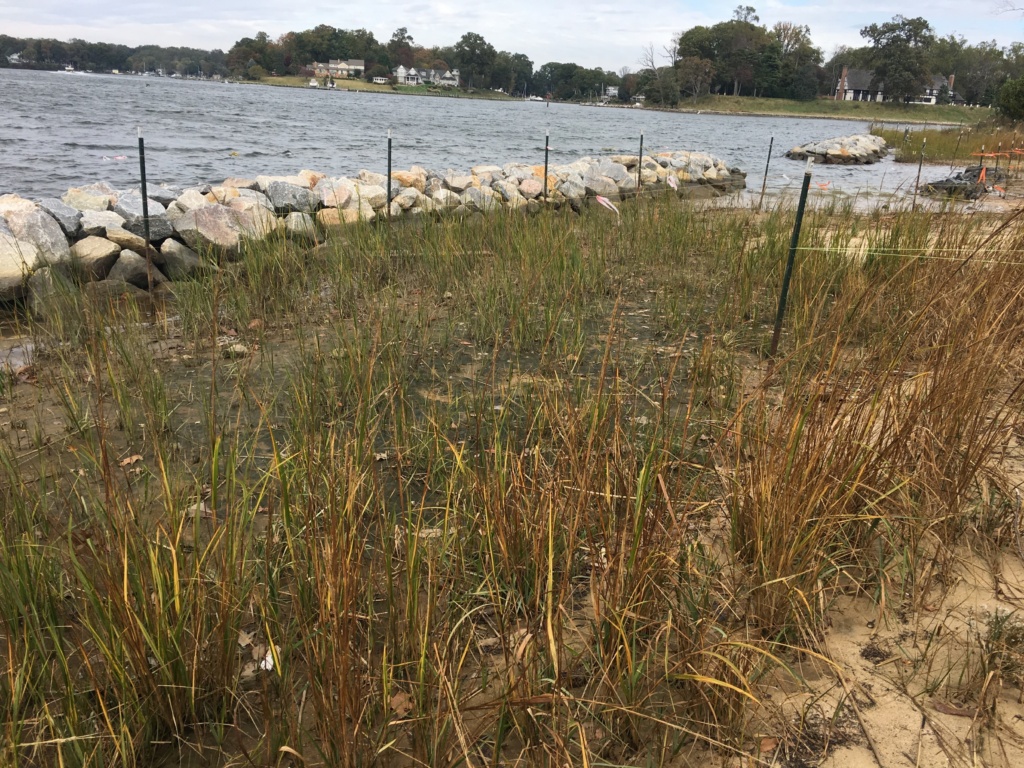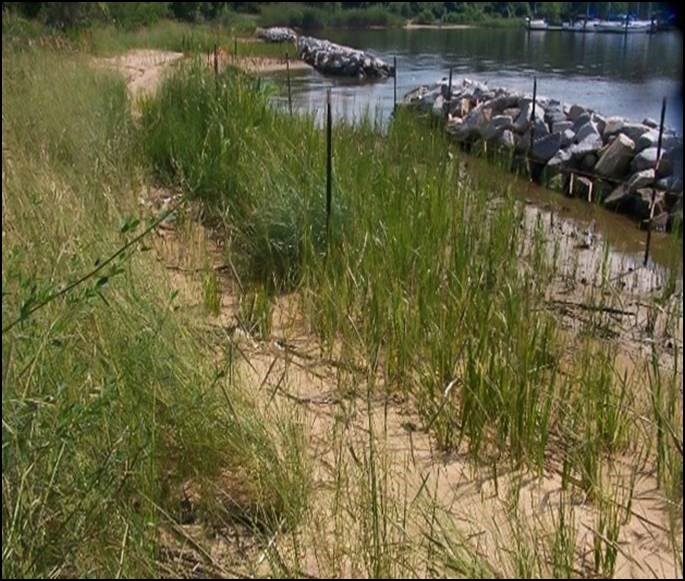 [forminator_form id="5195″]
Living Shoreline Concept Plan Q&A
No comments to show.